2021 has got off to a positive start for us as we are featured in the January/February 2021 edition of The Village Emporium.
The Village Emporium has been delivering to local homes across parts of rural Warwickshire and Northamptonshire since 2005.
Some 30,000 copies of the free A5 colour lifestyle magazine are hand-delivered door to door every other month to villages and areas in and around the Warwickshire/Northants borders (see the map below to see where).
Despite the current lockdown restrictions and uncertainty over when our normal service of weekend or midweek residential holidays for community groups will resume, we have a lot to shout in 2021 with it being our 40th anniversary. And due to success with our coverages in previous years, The Village Emporium is a great local and regional media in which to do so.
For their current edition, we have a double page spread which can be found on pages 80 and 81.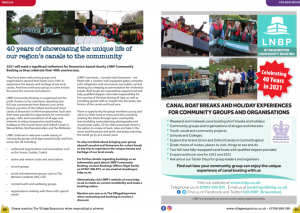 To read our coverage and download the January/February 2021 edition of The Village Emporium, click here