So the dust has settled, the boats have been returned to their respective moorings (or out on the water again), and we can look back on another very busy, productive and enjoyable Crick Boat Show weekend.

This year was the Show's 20th anniversary which also included a special Trade and Preview Day on the Friday (24th) of the weekend, ahead of the main show days of Saturday 25th, Sunday 26th and bank holiday Monday 27th May.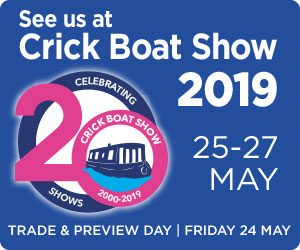 As for the main Show Days themselves, LNBP Chairman Peter Page reports all went fine from our perspective with no snags, although one of the boat's battery was flat and had to be jump started!

Attendance at the Show was probably slightly down on previous years (figures to be confirmed by show organisers) as always with it being a bank holiday weekend there were lots of alternative attractions including football and Formula 1 racing.  Plus there was the typically unpredictable British weather which kept changing every 5 minutes (well, it was a bank holiday wasn't it!) so this may have deterred some casual visitors, although carparks were quite full on all days.


From LNBP's perspective, again we were pleased that many more useful contacts were made once again particularly with prospective users; all of whom received our marketing literature and a Show-specific discount voucher which we hope will be put to good use by them for a future booking!

Once again, LNBP held their AGM at the Show on the Saturday evening, which as Peter said went very well – as far as he was concerned at least!
Read Peter's address to the AGM here: Chairman's Address to AGM 2019

Doing the maths
Paul Iverson is an LNBP Skipper and along with wife, Denise, took on the responsibility of coordinating LNBP's involvement at Crick 2019 with the Show's organisers, Waterways World.

Paul has done a few bits of maths which again make for interesting reading.

We ran four trip boats leaving at 10 minute intervals from 10:10am to 17:20 on Saturday, Sunday and a slightly earlier (16:20) finish on Monday.

This equates to 126 boat trips, all of which were generally full with 10 members of the public on each boat. This makes something like 1,260 people on board our boats across the whole weekend.
Plus we also had approximately one dog on board per boat trip, to = 126 dogs!

Canal planner suggests our route from the marina entrance was approx. 3.5 furlongs each way, so working on the basis of one mile per trip to include turning around at both ends and mooring on the quayside, this would make a total of 126 miles by the four trip boats over the course of the weekend.

In addition to our team of project skippers, we were joined by two new skippers.

An amusing incident occurred when Paul tried to explain to a young lad that we have to reverse the hamster in the wheel to make the boats go backwards. Paul then discovered his dad builds narrowboats for a living!

And finally…..Paul reported no one fell in the canal, which is always good 🙂

Funny stories
Denise also shared a couple of funny stories.

The first was having to pull free one of the training boats that had got stuck on the farmers side of Bridge 13 (not a good number!). It did however demonstrate to the public on board that all boaters help each other.

The second one was that last year I had a chat and gave a brief introductory talk to the public on board the boats. This year we welcomed Paul Dadford to our skipper's team. He said it was her talk to everyone that had prompted him to apply and subsequently join LNBP as a volunteer.

(find out more about how you or someone you know can get involved with LNBP here)

Finally, although the Crick Boat Show was held at Crick Marina in Northamptonshire, Denise also met her local Councillor for Woking on board her boat. Small world!

---

As always a huge thank you to everyone who contributed in whatever spare or form to the success of LNBP's attendance at the 2019 Crick Boat Show.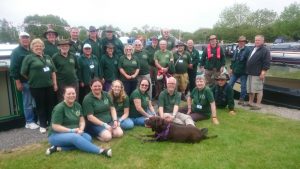 And thank you to all the Show Visitors who either joined us for a boat trip, had their face painted, generously offered a donation, and came aboard Guinevere to find out more about us and make enquiries for a future group booking. It was lovely to see and meet you all.

Here's to Crick 2020!

---

LNBP are now taking bookings for 2020 (and 2021!) from community groups and organisations for weekend, short breaks and longer holidays to experience the sights, sounds and beauty of the inland waterways of central England.

Why not get in touch to find out what more about us and what we can offer, and check out dates and our current availability.

Please contact Nigel Smith, our Bookings Officer, on 07967 406 875 or via email: bookings@lnbp.co.uk.