LNBP's Paul Iversen reports on another successful weekend for LNBP at this year's Crick Boat Show in Northamptonshire.
Crick Boat Show is the largest inland waterway festival in Britain, organised by Waterways World in association with the Canal and River Trust and Aquavista. It attracts thousands of people who are interested in canal and river craft over a bank holiday weekend. This year's dates were Friday 3rd  to Sunday 5th June with a Trade Day on Thursday 2nd June.
LNBP at Crick
LNBP took Guinevere as a show boat to encourage people aboard and to explain how the Project provides canal experiences for Community Groups. We also run the day boat trip service, a 30 minute trip down the canal and back, including providing a timed ticketing service. LNBP has supported Crick Boat Show for many years and we continue to have good working relationship with the organisers. One notable change to previous years is that we did not provide a face painting service at this year's Show.
Objectives
Our objectives for the Show once again covered:-
Attendance and support of the largest inland waterway festival in Britain.
Show Guinevere to promote LNBP and to encourage future bookings
Fundraise via bucket collection, mainly from the trip boats and book/CD sale
Provide a venue and BBQ for the annual AGM
 Attendance and support
LNBP successfully ran the trip boat booking tent (thanks to Julie and Linda) and provided a good shuttle service with the three trip boats provided. We also collected and returned the trip boats from Foxton and Braunston on the Thursday before and Monday after the Show. In total we offered 95 boat trips and took 894 passengers plus 26 dogs. Excluding the dogs, this represents 94% capacity.
LNBP provided a team of 28 including 17 skippers. We also had 13 camping over the weekend on the Show Campsite. This was the first time in three years LNBP members and supporters have had been able to meet so the social value shouldn't be underestimated. Andrew Brownless. Andy Sainsbury Brown and Jools Anson joined us as potential new members. Specific thanks to Mike for organising the rotas and for Denise for organising the catering.
The Show organisers are very grateful to LNBP for our support, especially the professional running of the day boats, which is reflected in some significant show fee discounts. We are contacting the organisers to provide some feedback but also to ask if our services will be required in 2023 (dates would be 26th May Trade day and 27th to 29th May for the public days). I would suggest that this objective was fully achieved.
Guinevere
Guinevere was given a prime location for the 2022 Boat Show and was regularly visited by a variety of "customers". Special thanks to Denise, John and Brian for getting the boat cleaned and "Show" ready which took considerable time given the trees at UCC (now significantly pruned). Guinevere and her crew left Braunston on Tuesday and returned the following Monday.
There was some genuine interest in Community boating, there was some family groups interested on getting on a boat without having to book with the boatbuilders and there was some interest from others keen to gain boat layout ideas.
Community groups often need to plan activities over 12 months in advance so it would be difficult to confirm any bookings directly from the 2022 Boat Show. Nigel was on site on Saturday and we have had bookings from previous shows.
Fundraising
Bucket collections raised £1,047.00. The book/cd sale was a good idea but the weather limited the amount of sale time and probably requires its own sheltered area for future years.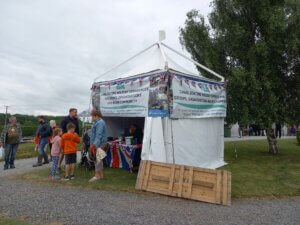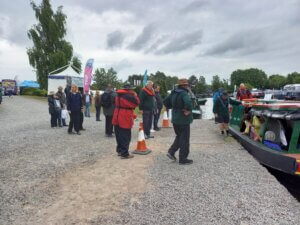 LNBP Annual General Meeting
We are required to hold an Annual General Meeting (AGM) each year and the Crick Boat Show provides the obvious opportunity given the number of people already on site. This avoids having to arrange a separate venue, travel and catering. This objective was fully achieved.
The AGM also provided an opportunity to extend our grateful thanks and bid fond farewell to Chris Woodward who is retiring from the project.
Overall Crick [for 2022] was another great and productive weekend, and a big thank you is extended to everyone (you know who you are) who contributed – however big or small – to its success for LNBP.