It has been a long time coming in the planning and not without its delays, but it was wonderful to finally celebrate our 40th anniversary of operation last month, as Chris Woodward reports.
2021 marks the 40th anniversary of the founding of LNBP Community Boating, although this is not strictly accurate as a preliminary meeting was held at the end of 1980. But nothing actually happened until 1981 – so 1981 it is.
During the past 40 years the project has moved from London to Braunston in Northamptonshire, and even the name of the project has changed. It started as The Lewisham Narrowboat Project, which evolved into the London Narrowboat Project as it expanded but now is called LNBP Community Boating at Braunston to stop confusion about its location.
To celebrate the occasion a small party was held on 16th September at The Ferry Inn at Alveston near Stratford upon Avon. Why there? One of our skippers, Martin Tolley, is the landlord and is a great central location from which many of our officials, members, friends and guests from all the country could get to.
About 40 members and friends enjoyed a lovely afternoon and evening reminiscing and renewing friendships.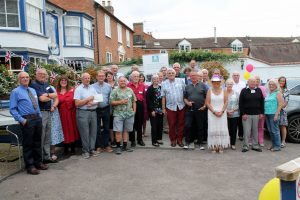 The event was organised by a small team of members lead by Denise Iverson and a buffet was prepared and cooked by Martin and his brother. It was a lovely occasion in a great setting and thanks must be given to all those involved.
At the event a cheque was presented to LNBP from the Provincial Grand Lodge of Ancient Free and Accepted Freemasons of Warwickshire by Geoff Walker, their charity Steward. Our sincere thanks to Mr Walker and all at the Freemasons of Warwickshire for this wonderful donation and support.